Our Calgary Reading Room has Moved!
Our new Calgary Reading Room is now open.
New location: #101, 1118 - 12 Ave SW
Calgary, AB T2R 0P4
Phone: 403-209-0012
Street parking available at front
Click here for map
Bible Study
In our Calgary Church Board Room, we study the King James version of the Bible at our monthly meeting.
Call 403.209.0012 for more information or if you would like to join our study group.
You may also be interested in studying the Weekly Christian Science Bible Lesson.


Ecumenical and interfaith ideas (BLOG)
"The truth is the centre of all religion," Mary Baker Eddy wrote. Here, you'll find ideas that honor that center, the "circle of faith" of which we're all a part. We hope they are helpful as you listen and contribute to the healing dialogue going on between faiths worldwide.
Discover God, discover health
In this lecture, given in Melbourne, Australia on May 15, 2016, Stormy Falso, CSB, describes Christian Science healing through study of the Bible and Science and Health with Key to the Scriptures by Mary Baker Eddy.
Curing the incurable
Elise Moore, Speaker. This healing talk is part of a lecture event in Orange County, CA about about "Healing Through Prayer." It's about handling fear and utilizing the law of God to heal disease.
JSH Audio
You can also listen to weekly podcasts from the Christian Science Sentinel and monthly podcast from The Christian Science Journal on JSH Audio.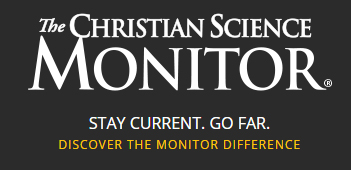 The Christian Science Monitor is an independent international news organization that delivers thoughtful, global coverage. We want to inspire people to think about what they've read long after they've left the page. To share what they've learned with others. And to do something that makes a difference.
In an era when the mainstream media has narrowed its focus, we're convinced readers yearn for the opposite. The Monitor's global approach is reflected in how founder Mary Baker Eddy described its object as "To injure no man, but to bless all mankind." Our aim is to embrace the human family, shedding light with the conviction that understanding the world's problems and possibilities moves us towards solutions.

Visit www.csmonitor.com for international news.

More About the Christian Science Monitor