Our Calgary Reading Room has Moved!
Our new Calgary Reading Room is now open.
New location: #101, 1118 - 12 Ave SW
Calgary, AB T2R 0P4
Phone: 403-209-0012
Street parking available at front
Click here for map
Closed - Saturday October 29, 2106.
Closed - Friday November 11, 2016.
You are invited!
Christian Science Bible Lesson Workshop
with Jill Grimes C.S.
Saturday October 29th from 9:30 am to 4:00 pm
At First Church of Christ, Scientist Calgary
2603 19th Street NW
Calgary, Alberta T2M 3V5
Location Map
Open to new and experienced students of Christian Science age 12 and over.
Please register at christrr@shaw.ca or call 403 209 0012 for more information.
Lunch provided.

Ecumenical and interfaith ideas (BLOG)
"Learning Where Others Are Coming From," by Susan Humble
In last week's Circle of Faith blog, Shirley Paulson shared some of her insights and questions related to the theme of "unity" that she came away with after attending the North American Academy of Ecumenists meeting in Atlanta, Georgia. Discussed at this meeting were two important documents on reconciliation that have been hammered out in years of Catholic and Lutheran dialogues. Before you think about closing this blog because you think these documents do not matter to Christian Scientists, let me share a few thoughts about why they do matter.
October 16, 2016 - Read the article ...
Accessing our un-limited resources
Beth Packer, CS, asks the pointed question, "Where does our good come from and how do we access it?" She explains that God is actually the infinite source of goodness and supply, always providing answers and solutions to our needs.
JSH Audio
You can also listen to weekly podcasts from the Christian Science Sentinel and monthly podcast from The Christian Science Journal on JSH Audio.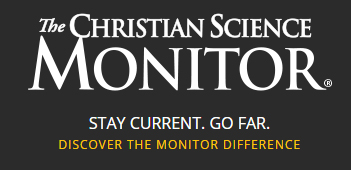 The Christian Science Monitor is an independent international news organization that delivers thoughtful, global coverage. We want to inspire people to think about what they've read long after they've left the page. To share what they've learned with others. And to do something that makes a difference.
In an era when the mainstream media has narrowed its focus, we're convinced readers yearn for the opposite. The Monitor's global approach is reflected in how founder Mary Baker Eddy described its object as "To injure no man, but to bless all mankind." Our aim is to embrace the human family, shedding light with the conviction that understanding the world's problems and possibilities moves us towards solutions.

Visit www.csmonitor.com for international news.

More About the Christian Science Monitor

Bible Study
In our Calgary Church Board Room, we study the King James version of the Bible at our monthly meeting.
Call 403.209.0012 for more information or if you would like to join our study group.
You may also be interested in studying the Weekly Christian Science Bible Lesson.