Our Calgary Reading Room has Moved!
Our new Calgary Reading Room is now open.
New location: #101, 1118 - 12 Ave SW
Calgary, AB T2R 0P4
Phone: 403-209-0012
Street parking available at front
Click here for map
Annual Meeting
"Let us feel the divine energy of Spirit, bringing us into newness of life ... "
— Mary Baker Eddy, Science and Health with Key to the Scriptures, p. 249:6–7
Monday, June 5, 2017 at 1:00 pm EST
You're invited to come to Boston or join online for a weekend of inspiration and sharing.
A replay of the meeting will be available in English within 24 hours, and, by Thursday, June 15, in French, German, Portuguese, and Spanish.
Join us to watch the online Annual Meeting from our Reading Room
Join us to watch this inspiring meeting together at the Calgary Downtown Reading Room, Monday June 5 at 11:00 am MST, refreshments will be provided.
Let the energy of Spirit fill the Church
Article by Scott Preller
From the March 2017 issue of The Christian Science Journal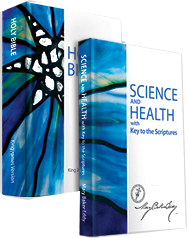 Foundation for Spiritual Healing
The Bible

The Bible is the basis of Christian Science and the teachings of Mary Baker Eddy. Christian Scientists study the Bible and work to apply the lessons learned from Scripture in their daily lives. The King James Version is the most widely used translation and is quoted more than 800 times in Science and Health.
Science and Health

In the Christian Science textbook, Science and Health with Key to the Scriptures, Mary Baker Eddy explains the scientific laws behind the teachings and healings of Christ Jesus. From the first chapter, "Prayer," to her exegesis of Genesis and Revelation, to a Glossary of terms, the author invites readers to deeply consider the allness of God, the perfection of man as God's spiritual creation, and how an understanding of these facts brings healing — just as they did in Biblical times. As explained in her book Miscellaneous Writings 1883–1896, (p. 259) "Truth is the power of God which heals the sick and the sinner, and is applicable to all the needs of man."
Christian Science Practitioners

Christian Science practitioners pray for healing for those who call upon them for help. These experienced men and women are also happy, simply to answer questions about the practical blessings that come through the study of Christian Science.