Reopened effective June 15, 2020
You may attend our Calgary church services online via Zoom. Wednesdays from 7:30 to 8:30pm and Sundays from 10:00 to 11:00am. If you would like attend please email Chris at christrr@shaw.ca and she will send you an email link to the Zoom service(s) of your choice.
About our Reading Rooms
In our Calgary Reading Rooms, we offer a warm and friendly place for those exploring spiritual answers to life's questions and problems. Our friendly attendants are always available to answer any questions you may have about the teachings and practicality of Christian Science.
To further your spiritual growth, we offer a wide range of materials to purchase, borrow or study, including the Bible and Science and Health with Key to the Scriptures, by Mary Baker Eddy. You may also make use of the computer study package "Concord" and the JSH-online subscription service, offering a wide range of inspirational materials for our visitors to explore in our quiet study room, at our downtown location. You may also access jsh.christianscience.com for information on subscriptions.
Calgary Southwest
#101, 1118 - 12 Ave SW
Metered street parking available at front

Phone: 403-209-0012
Email:
Hours
Monday-Wednesday 10:00 am - 5:30 pm
Thursday Noon-7:00 pm
Friday and Saturday 10:00 am - 4:00 pm
Healing Testimonial Meeting
Each Wednesday at 1:00 pm, a healing testimony meeting is held at the Downtown Reading Room for one hour. All are welcome to join us for scriptural readings, and testimonies on the healing practicality of Christian Science.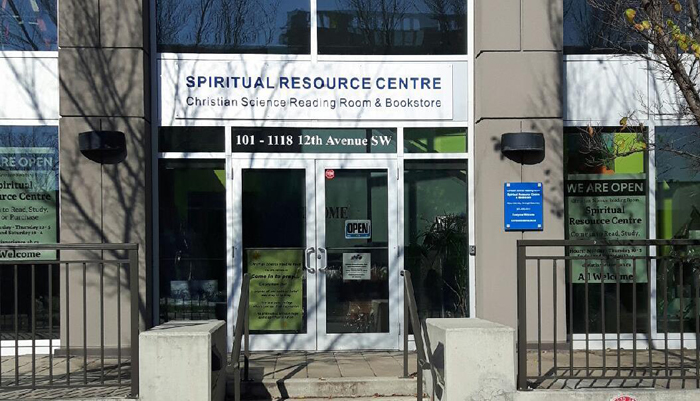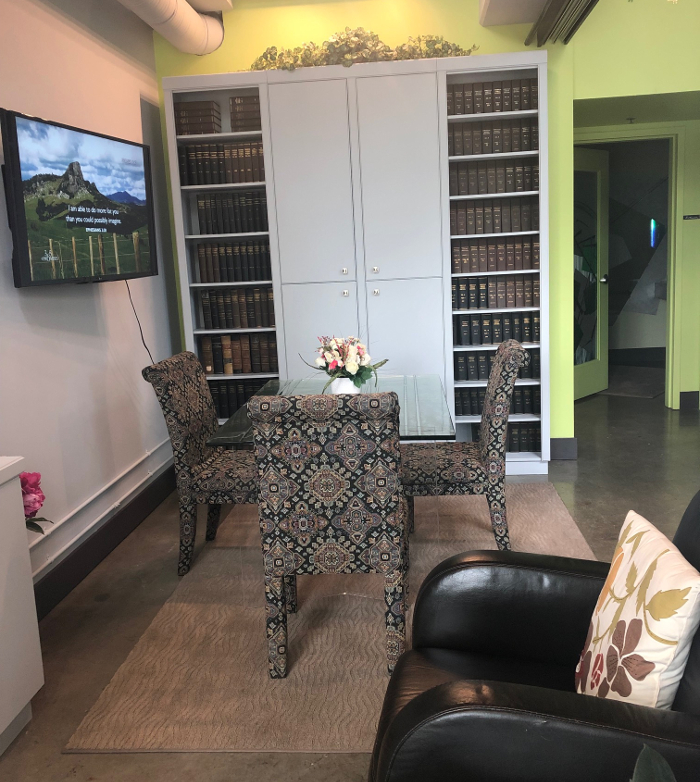 Bible Study
A regular Bible study meeting is held at the Calgary Church.
For more information call 403-209-0012.
Calgary Northwest
2603 19th Street NW, Calgary
(Same address as the church)
Hours
Wednesday - 7:00pm to 7:30pm


The JSH-online subscription service is provided at both Calgary Reading Rooms. Please feel free to stop by to use this helpful resource during operating hours.
A whole new way of studying, searching and sharing the Christian Science periodicals is available online at JSH-Online.
JSH-ONLINE will keep you "abreast of the times," giving you a portal to 130 years of Christian Science publishing. With your monthly subscription you can access, search, read, listen, study, and share over 250,000 articles and testimonies and over 600 Sentinel Radio programs on your computer, tablet, or smartphone.
You will also have access to new online original content such as articles, blogs and podcasts. With JSH-Online you get it all, from the first edition of The Christian Science Journal, Sentinel, and Herald to the latest issue.
Ordering Products
To order products from the Calgary Reading Room or for more information, email: christrr@shaw.ca or call 403-209-0012.
Anthology of Classic Articles III
This book is a wonderful anthology of 45 well-loved articles and poems previously published in the Christian Science Sentinel and The Christian Science Journal. The articles in this compilation are drawn from issues from the first 126 years of The Christian Science Journal and 107 years of the Christian Science Sentinel. These articles have been enthusiastically recommended by a group of Christian Science practitioners and teachers as being particularly helpful in their healing work. Available from your local Christian Science Reading Room by emailing christrr@shaw.ca or purchase online.
Pilgrim on earth, thy home is heaven; stranger, thou art the guest of God.
Mary Baker Eddy