Temporary Closure - Effective March 20, 2020
Our Calgary Church and Reading Room are temporarily closed. This is in compliance with the request of various levels of government to refrain from all non-essential gatherings.
You may attend our Calgary services online via Zoom. Wednesdays from 7:30 to 8:30pm and Sundays from 10:00 to 11:00am. If you would like attend please email Chris at christrr@shaw.ca and she will send you an email link to the Zoom service(s) of your choice.
Click here for details on other Churce services online.
Church - why we should attend
Audio podcast with Virginia Anders, Ann Kneeland, and Sue Martin. On this edition of Sentinel Watch, our guests share how church has made a big impact on their lives, how they have experienced healings from what they learned about God when attending Sunday School and church, and how uniting in prayer for congregations around the world during church services brings rich meaning and depth to their practice of Christian Science.
Location
First Church of Christ, Scientist - Calgary
2603 19th Street NW
Calgary, Alberta T2M 3V5

T: 403.266.3787
E: fccs@shaw.ca
Sunday Service
Our Sunday church services are held at 10:00 am until 11:00 am.
Sunday sermons include readings from the Bible and Science and Health with Key to the Scriptures, by Mary Baker Eddy. Each Sunday you'll also enjoy live music including a vocal solo, a prelude, three hymns, music during the offertory, and a postlude, primarily played on the organ; occasionally on the piano or other instruments. The words and music are selected to support the spiritual meaning of the sermon. All are warmly welcomed to our services.
Here is the order of our Sunday church service.
Sunday School
Sunday School for children and teenagers up to the age of twenty is held at 10:00 am and lasts one hour. Children too young for Sunday School are lovingly cared for in our Children's Room.
An open invitation
By John Biggs
From the teen series: My Church - June 25, 2018

" ... as I was praying about this question of whether I should keep going to church, I wanted to be sure I was honestly listening—not just pouring out my heart and then doing whatever I wanted.."
Read on ...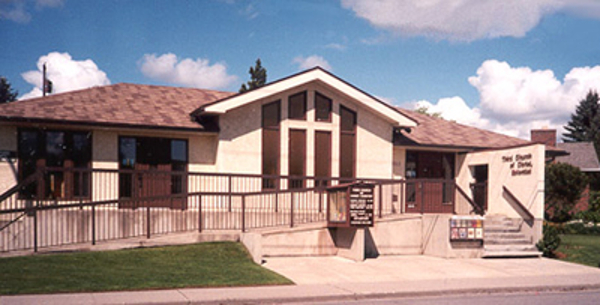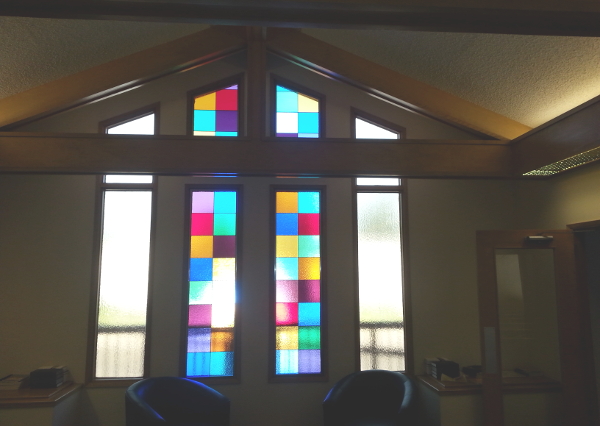 Wednesday Testimony Meetings
Each Wednesday at 1:00 pm and at 7:30 pm, our church holds an informal testimony meeting where those in the congregation tell of the healing power of prayer in their lives. Everyone is welcome to join us!
Wednesday at 1:00 pm
#101, 1118 - 12 Ave SW

Wednesday at 7:30 pm
2603 19th Street NW
Here is the order of our Wednesday testimony meeting
Reading Rooms
A small Reading Room is located in the church at 2603 19th Street NW and is open 1/2 hour before the service and for a short period following the service.
Our downtown Reading Room is located at #101, 1118 - 12 Ave SW. Wednesday testimony meetings are held weekly at this location, from 1:00 pm to 2:00 pm. Join us to hear of the practical application of Christian Science. All are welcome. Call 403-209-0012 for more information.
Downtown Reading Room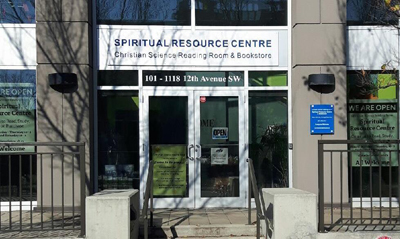 Monthly Bible Study Meeting
In our Church Board Room
Call 403-209-0012 for more information.
Listen to Calgary Church
Services on Conference Call
Within five minutes prior to the start of the service at 10am Calgary time on Sundays or 7:30pm on Wednesdays, dial 1-800-786-1922 (TOLL FREE). Wait to be prompted to enter our participant code: 8448873#.
Please hit the "mute" button on your phone if possible. You can leave the call any time you wish.
Listen to Boston Church
Services on the Web
Listen live online on Sundays at 10:00am Eastern time or listen to a replay at any time during the rest of the week.

Click here to listen
Listen live online live every Wednesday at 2:00pm Eastern time or listen to a replay up until 8:00am Fridays.

Click here to listen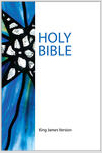 The Bible and Science and Health with Key to the Scriptures by Mary Baker Eddy contain the basic teachings of Christian Science. These books are available to read online.
CHURCH. The structure of Truth and Love; whatever rests upon and proceeds from divine Principle.
Mary Baker Eddy
Science and Health with Key to the Scriptures